14 Weeks to Prepare For Your IT Career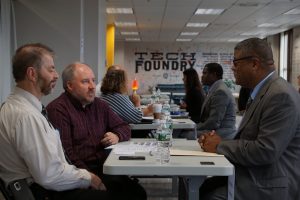 Tech Foundry is currently enrolling 18+ students into our Fall Cohort, starting September 5th.
Our free 14-week IT training program meets five days a week and requires a time commitment of 20 hours per week. Typically classes are Monday through Friday, 12:30-5PM. The classes will focus on skills in four technological areas: networking, data analysis, programming, and computer troubleshooting.
Taking part in the program involves completing projects and classes at our Google-like space in downtown Springfield, MA, going on local and regional field trips, and completing a four-week internship with area employers. Completing the Tech Foundry program will help prepare you for an entry-level position in IT.
If you are passionate about your future, this is the program for you!
Tech Foundry Badges Show You're Ready for a Career – In Over 20 Key Areas
Programming Badges
Language Basics

HTML

JavaScript

Python

SQL
Data Badges
Intro to Data Collection

Data Compliancy, Encryption and Security

Microsoft Access

Visualizing Data

Advanced Storage Concepts
Networking Badges
Networking Infrastructure Overview

Intro to Networking Diagnostics

Virtualization

Cabling

Understanding SSL
General IT Badges
Microsoft Office

PC Deployment

Hardware Assembly and Diagnostics

Active Directory Fundamentals

Virus/Malware Detection and Removal
Students complete three components in order to receive a badge in a specific skill:
LEARN

Students learn the skill in a hands-on environment. For the Networking Infrastructure badge, students will learn the various components of a business network. They will identify each component and its role in the network through the assembly of a simple network.

DEMONSTRATE

Students demonstrate the skill they learned previously through a project or assignment. For the Networking Infrastructure badge, students will independently build a working network from scratch using all the components they learned about during the "Learn" portion.

APPLICATION

In order to show their mastery of the skill, students finally apply their new knowledge. The application component can consist of a video tutorial, a live class for another student or staff member, or another medium that allows the student to teach the skill to someone else.